Tiny Performers To Entertain in Chicago Parks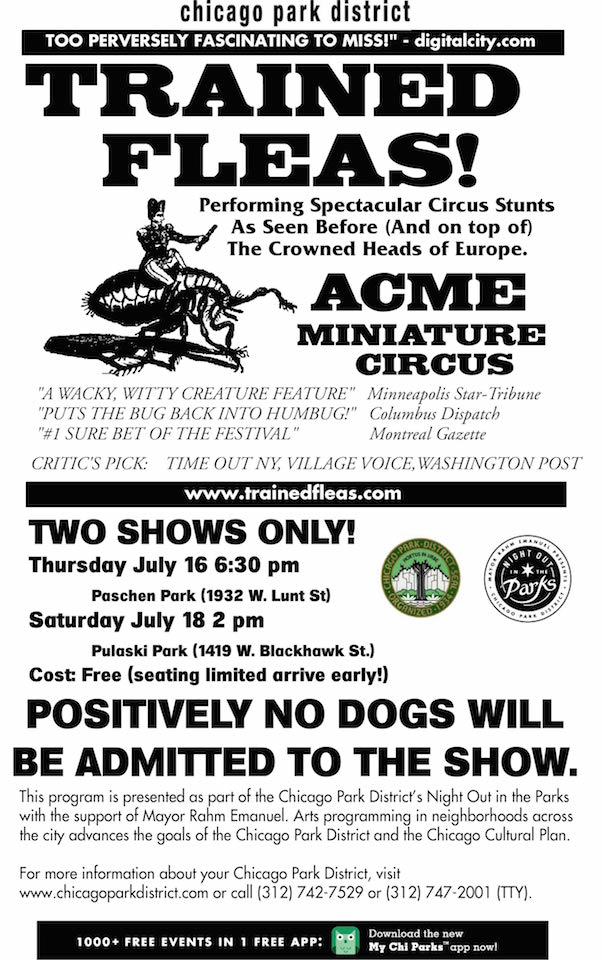 ==============================
SUMMARY:
WHAT: Acme Miniature Flea Circus in the Chicago Park District
WHERE: July 16 6:30 pm Paschen Park (1932 W. Lunt Street)
WHERE: July 18 2:00 pm Pulaski Park (1419 W. Blackhawk Street)
COST: FREE! (seating limited, please arrive early)
MORE INFO: http://www.trainedfleas.com
PUBLICITY PHOTOS: Press Images of the show
============================

FOR IMMEDIATE RELEASE
PLEASE LIST, POST, AND DISSEMINATE
KILL DATE 7/19/2015
press contact: Adam G. Gertsacov adam@trainedfleas.com 646-543-5512
Tiny Performers To Entertain in Chicago Parks
7/7/2015
CHICAGO, IL: This summer, at least two of the performers in the Chicago Park District Night Out in the Park program will be rather difficult to see. That's because they will be insects. Trained insects. Fleas, to be exact.
The show, the Acme Miniature Flea Circus, is an authentic Victorian flea circus that features trained fleas Midge and Madge who perform spectacular circus stunts as seen before (and on top of) the crowned heads of Europe. Midge and Madge will entertain Chicagoans at two public parks this summer.
The flea circus will be performed at Paschen Park (1932 W. Lunt) on Thursday, July 16 at 6:30 pm and at Pulaski Park (1419 W. Blackhawk St) on Saturday, July 18 at 2 pm. Admission is free, but seating is limited, so please arrive early for best seats.
Details magazine called the show "One of the top alternative circuses in the country." The New York Times said "The appeal is irresistible... Gertsacov is every bit the fantastical impresario, in his purple top hat and cash-register voice, introducing us to the wondrous insects itching (sorry) to perform." And the Los Angeles Times says that "Professor Gertsacov holds the audience (and the stars of the show) in the palm of his hand."
According to Professor A.G. Gertsacov, ringmaster and proprietor of the Acme Miniature Circus, flea circuses were popular entertainments during Victorian times, but have nearly disappeared since the advent of television. The last popular American flea circus was Professor Heckler's of Times Square, which left New York in 1957. The rumor is that Heckler thought that the nude shows were giving his fleas a bad name.
There are now only a handful of flea circuses still performing throughout the world. Gertsacov's is arguably the most famous. The Rhode Island native (who recently moved to Chicago) and his amazing insect stars have performed throughout the country and in Canada, Chile, and Brazil. He once spent three months performing in Times Square, less than two blocks from where Professor Heckler had his fleas. Gertsacov has also been filmed for documentaries on the History Channel, the Travel Channel, and numerous news programs. He's even been a question on Jeopardy!
Gertsacov's educated insect stars pull chariots, dance on a tightwire, and perform other circus-like stunts. While he does not reveal his method of training (a proprietary secret, he explains), he assures the curious and the civic-minded that he uses only methods of positive reinforcement to teach the insects their routines. "I treat them as if they are my own flesh and blood," Gertsacov says. "And in some ways, they are."

Professor Gertsacov will bring his minuscule marvels to perform in two Chicago parks this summer. He invites all curious parties to come and see the show that was deemed one of the World's Strangest Circuses by Travel & Leisure Magazine. But he asks that you leave your dogs and cats at home. Gertsacov quips, "I don't want anyone to steal the show."

For press information, photographs, or interviews, please contact Flea Master Professor A.G. Gertsacov at 646-543-5512 or visit the flea circus website: trainedfleas.com

This program is presented as part of the Chicago Park District's Night Out in the Parks with the support of Mayor Rahm Emanuel. Arts programming in neighborhoods across the city advances the goals of the Chicago Park District and the Chicago Cultural Plan.

For more information about your Chicago Park District, visit www.chicagoparkdistrict.com or call (312) 742-7529 or (312) 747-2001 (TTY).

For press information, photographs, or interviews, please contact Flea Master Professor A.G. Gertsacov at 401-351-2596 or visit the flea circus website: http://www.trainedfleas.com.